Industrial Granite Surface Plates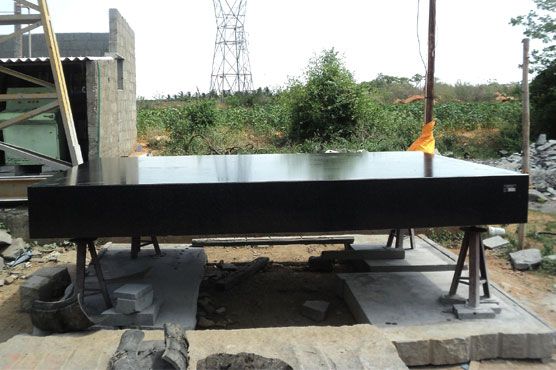 Price :
30,000.00
/ Piece
Business Type
Manufacturer, Supplier
Density from
2.9 x 103kg/m3 to 3 x 103Kg / m3
Tensile Breaking Stress
From 7 N/mm2 to 35 N/mm2
Compression Breaking Stress
From 100 N/mm2 to 300 N/mm2
Click to view more
Product Details
Porosity Coefficient
From 0.5% to 1.5%
Moisture Content (percent)
Upto 0.50 Max
Specific Gravity (min)
3.05
Coefficient of linear thermal expansion
from 2 x 10–6 K–1 to 5 x 10–6 K–1
We are into manufacturing, supplying and servicing of Granite Surface Plates to Grade '0' accuracy as per IS 7327-2003. These plates are preferred for the inspection and layout making purposes. These surface plate make an ideal base for mounting sophisticated mechanical, electronic and optical gauging systems.We provide fabricated stand with adjustable leveling screws on request by our clients. The overall working height of surface plates with stand and leveling screw will be 900 MM (approx) from floor level
Closed grained & uniform texture.
Very hard, high wear resistance & extreme rigidity. .
Outstanding dimensional stability.
Top surface lapped smooth & flat.
Inspected by electronic level, precision level & auto collimator traceable to NABL.
Least subjected to internal stresses
Accuracy
Rigorous quality control inspection is carried out at all stages and final inspection is carried out with Electronic Level calibrated by an NABL accredited lab at regular intervals.
Material
Granite Surface Plates are made from select granite with uniform distribution of light and dark constituents. Granite used for surface plates should have the following physical properties.
Basis of Tolerances
The values specified in table 1 are based on the following formula
T = C1L + C2 Where
T is the tolerance on deviation from
flatness overall, in micrometres;
L : is the nominal length of the diagonal of the plate rounded
up to the next 100 mm;
C1 and C2 are constants for the grade of plate and are given in table 1
Table
Table 1- Values For C1 And C2
Grade Of Plate
C1
C2
0
0.003
2.5
1
0.006
5
2
0.012
10
3
0.024
20
Looking for "
Industrial Granite Surface Plates

" ?
Piece